Lost City of the Jersey Marshlands discovered

I've heard tale told of a 'lost city' somewhere in one of the marshier regions surrounding the northern end of the Jersey Turnpike since I moved to JC in '99, including some that actually place it inside the city limits. Now, while the area west of Manhattan and east of the Palisades is a paved-over swamp akin to Disney World in Orlando, it's pretty densely packed. There isn't a lot of room for a lost city to remain lost. Yet the stories would persist, usually among long-time residents and/or transplants seeking to embrace local culture.
Mostly, these stories came across as wild speculation and conjecture of what one might expect a lost city of mysterious origins to be. A fortress built by primitive peoples to ward off invading clans. Or a temple honoring some wrathful if forgotten deity with sacrifices of blood. Perhaps even a home to untold riches. Where facts were few and far between dreams had filled the cracks.
At some point last Fall, I found myself at some local happening eavesdropping on a conversation by someone claiming to have actually seen the lost city. Defying logic, he claimed it was not only within the city limits, it was nestled into a corner of nearby Liberty State Park. As I nonchalantly filled, drained and refilled my cup at the punch bowl, he parlayed directions, which I transcribed onto this map:
Saturday morning I set off, Indiana Jones style, to find the lost city.
For those unfamiliar with Jersey City geography, LSP is a two mile stretch of park land on the Jersey side of the confluence of the Hudson and East rivers that serves as launch point for ferries to Ellis Island and the Statue of Liberty. Half of it is grass land suitable for flying kites and walking dogs, while the other half is reedy marshland suitable for dumping bodies and hazardous waste. Unlike the meticulously plotted 'nature areas' of other local parks, namely Central in Manhattan and Prospect in Brooklyn, a goodly portion of LSP is in fact wild. While it's unlikely you'll run into a bear or mountain lion, snakes and ill-tempered rodents are not entirely uncommon. Oh, and ticks. Lots and lots of ticks. All of which I mention just so you'll understand how truly adventurous this adventure was, and how recklessly I took my life into my own hands in this quest for the mythical Lost City of the Jersey Marshlands.
Still, I have to admit I was vexed by how difficult it was to find. I mean, come on, there aren't many places for a city to hide 36 paces past the first seating area behind the Interpretive Center in the southeast corner of Liberty State Park. Alas, when I found it, it all made sense: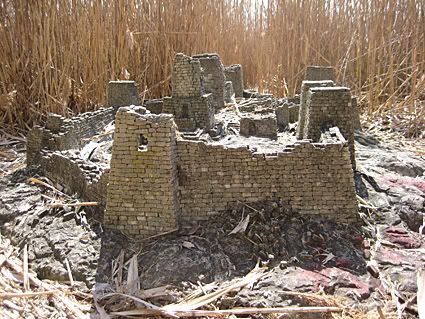 The lost city, it seems, was built and inhabited by people nary an inch tall! Or perhaps the construction foreman was Nigel from Spinaltap. Who can say. Its citizens long since departed and its riches long since plundered, I fear the riddles of the Lost City may never be answered.
3 Responses to "Lost City of the Jersey Marshlands discovered"
while the other half is reedy marshland suitable for dumping bodies and hazardous waste.

Actually, I understand that the denizens of this kingdom also have an incredibly lucrative money-laundering industry as well, what from all of the mysteriously appearing sums of money around here.

the "lost city" actually are the remains of an art project, entitled "lost city," that was commissioned in 1984 from new york sculptor chalres simonds. he's built hundreds of these across the country, but the one is LSP remains among the most mysterious. finding it is quite an adventure.

That's the best asnwre of all time! JMHO